If at OpenWorld 2019, it was a quite surprising to hear Larry Ellison announcing OCVS (VMware's solution on OCI), it was no less surprising to know how Oracle had implemented it over their second generation cloud.
Performance is usually one of OCI's strengths and the way their SDN integrates physical elements (Baremetal) into the virtual environment is probably one of the most powerful today. All this generated a great expectations in the sector.
Although I was lucky enough to access the test versions, for most of us, the wait was a bit long ...... and finally it arrived.
Finally, the official announcement by Oracle of OCVS service came In August 2020! and in what way!, with availability in ALL regions, which made OCI from day one the cloud provider with the greatest footprint.
You can watch the announce here.
What is OCVS?
Speaking about the software layer, the VMware solution is basically the same that we can find in the rest of the providers. There is not much room for innovation here, since it is VMware who decides which components are part of its Cloud Foundation suite.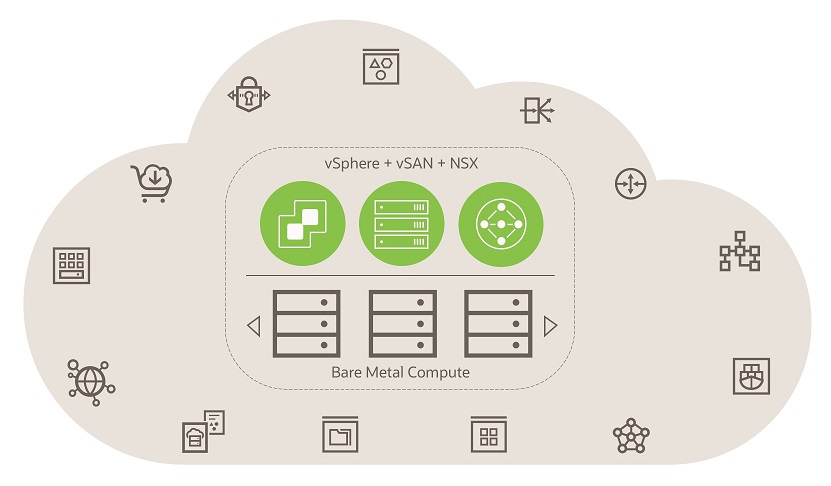 The most interesting thing to know about the service is we can use vSphere + vSAN + NSX-T + HCX.
How big is OCVS minimum deployment?
The minimum deployment is a cluster with 3 BareMetal nodes. Each of this nodes add the following capacity:
156 cores per Baremetal
2304 GB RAM
153 TB RAW NvME Storage
2x 25Gpbs network interfaces in each BareMetal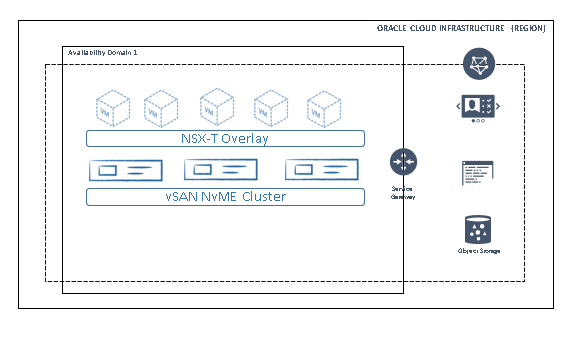 from this point, we can add/remove nodes with total flexibility.
How is it different from the options available in other providers (AWS, GCP, Azure .....?
Beyond small details, the main difference has to do with how Oracle delivers the service to us. Until now, vendor X deployed the service and provided customers with a VMware farm with limited management capacity, that is, the customer was never the full administrator of their farm and had limited autonomy in terms of what could be done.
This is, because these providers offer a managed service (sometimes in the hands of a third party) that imposes a series of restrictions and implications at the security level. The restrictions that are set on the user are the result of adding the limitations of the platform (cloud provider that supports it), with the considerations of provision of the providers and in terms of security, it implies that we have a second (cloud provider ) and in some cases a third party (to whom the cloud provider contracts the service), who eventually have the capacity to see / act on the client's workloads.
The simplest way to explain how OCI delivers the OCVS service is by saying that you will have the same user experience that we should on the premises, installing on your own servers. Once the deployment is finished (automatic of course), OCI will give you a cluster of (at least) 3 Baremetal servers with full administration (you will be given an account) and you will not have any other type of restriction, other than those that we could have running VMware on our own servers.
There are no third parties, there are no limitations (other than those of the VMware solution itself), and all seamlessly integrated with OCI's native services.
Particularly interesting is the possibility of being able to connect our VMs (on OCVS) to the Oracle database PaaS (RAC, Autonomous Databases, etc.).
What about NSX-T?
NSX-T offers an overlay layer to the virtual machines that will be hosted on your platform, allowing them to connect with the outside and with the different OCI resources, also with your On Premise locations.

# What about the use cases? The use cases are all possible and advanced that we can think of, including replacing our On Premise farms, since as I was saying, we will retain all control over our virtual farm. * Disaster Recovery * Extension of a virtual farm to the cloud (such as overflow for example) * Replacing an OnPrem farm * etc. # What about billing? move Up/Down VMs can build a huge Data Transfer invoice in other providers. First of all, to emphasize that what is collected here reflects OCI's billing policy at the time of publication of this post. It is always a good idea to go to the official pages of the different providers in order to verify that no changes has been occurred. Roughly we will have two ways to connect with OCI: * Using a dedicated connection, based on FastConnect * Over the internet (with or without VPN) In the case of using FastConnect, we only pay the price of the port, which will depend on the speed of it. In the case of OCI (and it is something different today from other cloud providers), no type of transfer fee is applied on the FastConnect, neither ingress or egress. In the case of internet connectivity, traffic ingress to the cloud will be free, without limit of quantity and for the output we will have 10TB per month of transfer, which is a really good data transfer capacity, more considering that the standard of the providers as of the publication of this post, it is only 5GB. To the above, we must add that the different networking elements, such as DRGs, Internet Gateways, Nat Gateways, etc. All those devices have no cost and this makes OCI a very interesting solution. # FAQ Q- Can I run Orale databases on VMs in OCVS? A- You can do it, but the licensing (as of the day of publication of this post) has not changed on VMware, so it makes much more sense for databases to run on PaaS and for VMs on VMware to connect to it. Q- Will my VMs in OCVS be able to access a DB, OCI Object Storage, etc.? A- Yes Q- Will I be able to reuse my VMware (BYOL) licenses? A- No, unfortunately at the time of publishing this post, BYOL is not an option allowed by VMware Q- Do I need specific OCI training to use OCVS? A- No, once the OCVS solution is deployed it behaves and manages exactly the same as any installation we have On Premise Q- Will I be able to run third-party solutions? A- A priori there is no restriction of any type and since the deployment is similar to a traditional On Premise installation, there should not be any other problem, beyond possible restrictions imposed by the manufacturer. It is always advisable to check with the respective vendors that there is no such type of restriction, for Public CLoud hosted VMware deployments. Q- Will I be able to use HCX? A- Of course, in fact the Advanced version was included with NSX-T, which is part of the Cloud Foundation package. **Resources:** Probably the best comparison between VMware cloud services, you can find it [here] (https://www.simonlong.co.uk/blog/public-cloud-hosted-vmware-cloud-foundation-services/). It is done by a VMware employee.